Jagdish Chaturvedi is in the top 30 English stand up comedians on youtube channels in India and USA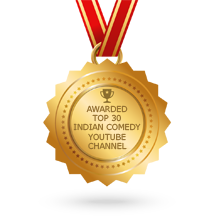 Watch Starting troubles webseries here
UPCOMING EVENTS 
Stand up comedy videos by Dr. Jagdish Chaturvedi
Dr. Jagdish or also popularly referred to "Corona Wala Doctor" because of his viral videos on corona virus is a practicing Doctor by profession and a  corporate stand up 
comedian
 with over 200+ performances for companies like LinkedIn, Decathalon, HP, Lenovo, Comicon, GE healthcare, Merck life sciences, Medtronic Inc, Qualcomm, Columbia Asia,  Times of India, ISRO, Panasonic, LensKart, KPMG, Wildcraft, Philip's healthcare, Delloite, Microfocus, Marriot, Taj, Swissnex, Rotary, PGI Chandigarh, AIIMS Delhi, BMC, Award functions, Medical and Technology conferences and social events.
His 
comedy
 is observational, non-offensive, clean, non-political and is well apretiated by corporate  audiences and senior management. His 
comedy
 revolves around relationships, traffic, human behavior, entrepreneurship, schooling, friendship, college life and of-course on doctors-patient interactions and medical life, thereby being relatable to audiences from all age groups and back grounds.
His Youtube channel –  Jagdish Chaturvedi has 120K+ Subscribers and over 13 million video views across 65+ 
comedy
 videos. He has over 4 hours of cumulative content and has performed 3 
comedy
 specials in over 200+ public performances across India (Public shows, ticketed events and college fests), Australia, United Kingdom, UAE, Thailand and Singapore.
He is also a practicing ENT surgeon, Innovator of 18+ medical devices (35 Innovators under age of 35 by MIT technology review) and Author (3 books, one best seller)